CONDOMS
Using condoms while doing sex will not only help you in having a control over pregnancy, but it will also save you from many diseases and infections including STIs- Sexually Transmitted Infections and HIV. You should always use a condom while doing sex and our HIV counselling doctors in Delhi, will guide you on how to use it and why to use it.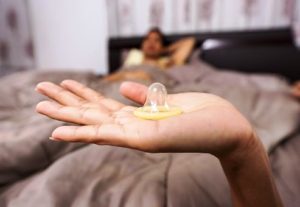 How does a condom work?
Condoms are available everywhere and these days there are male as well as female condoms available in the market. There is a variety of condoms available which have different thickness, texture, size, colour, flavours and the texture of condoms also comes in various types. A condom acts as a membrane which is a barrier between penis and vagina or mouth or anus, anywhere you want to do sex. With the usage of a condom, one can prevent the exchange of body fluids like blood, semen and other fluids.
The importance of a condom during sex:
Using a condom lowers the risk of STIs, HIV, pregnancy and it is the safest thing which gives you a healthy sex life. Even if you share sex toys with multiple people, you must cover it with a condom in order to avoid STIs. If while doing sex, either of you have STIs, the chances of getting it to the other partner are really high.
When should I use a condom?
You should use a condom, each time you indulge in a sexual activity where you want to be free from any STI, HIV or pregnancy.
How to use a condom?
You should not make the contact of vagina and penis without wearing a condom. Avoid it getting slipped off or its breakage and never touch the body of the condom because, it reduce the lubricant present in a condom and condom control HIV risk as well.
FEMALE CONDOMS
A contraceptive pouch which is inserted inside the vagina of a female is known as a female condom. It is a good thing if you want to have safe sex and keep yourself away from STIs, HIV and unplanned pregnancy. It is important to wear a condom if you want to have a healthy sex life because condom control HIV risk and also it helps in preventing many sexual disasters. Using a female condom is a good decision because by doing this, you dont have to rely on your male partner for a safe sex. If you want to know more about it, our HIV counsellors in Delhi are always there to provide you the support. Unlike male condoms, female condoms are uncommon and little expensive than the male ones. However, if you dont want to risk your life, using a protection is a must. So, you can buy the female condoms from health clinics or from health care workers who are into the field. Also, there are few online stores from where you can buy them.
How does it work?
You can wear a female condom inside your vagina. It is 17 cm long membrane that prevents the exchange of body fluids between sexual partners. It helps in preventing STIs including HIV and pregnancy.
How should I use a female condom?
Using a female condom is little tricky and you can take the advice on how to use a female condom from our HIV counsellors in Faridabad. You can read the instruction on the pack and make sure to follow:
Make sure to check the condition and expiry date of a female condom before using
Take it carefully, if you find any cut on the packet, do not use it
Use it carefully by not using fingernails, jewellery or any other sharp thing while using it
Take out the condom carefully while removing it
Use a fresh condom each time you have sex