BLOOD TRANSFUSION
There are many myths attached to HIV and its transfusion. People rely on incomplete knowledge and internet a lot but when it comes to HIV, it is important to take the best counselling through our HIV counselling doctors in Delhi. Our team of doctors are specialists in the field and they offer the best support and guidance on how to keep yourself safe.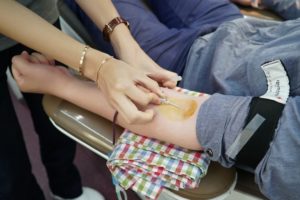 Can HIV pass through blood transfusion?
If you are a person who is HIV positive and you donate blood or any other blood product including an organ or a tissue to a person who is HIV negative, there are hundred percent chances of getting the infection. The receiver will develop the infection for sure if the donor is HIV infected. In order to prevent this, a test must be done to check if the blood or blood product which is to be transplanted has the infection or not.
How to know if the transfusion is safe from HIV?
In most of the cases, the blood or blood products one receives is safe. However, when it comes to your safety, you would always want to be sure. So, it is a must to ask the healthcare professionals that the blood or blood products you are receiving are safe for you or not. For that you can take the help from our HIV counselling doctors in Faridabad. We have a team of trained professionals who can offer you the best support.
Myths related to blood donation :
It is just a myth that donating blood (blood transfusion) can cause HIV. If you use safe methods like safe syringe and clean equipment there is no risk of getting HIV. Our HIV counselling doctors in Delhi will guide you on how to make sure that the needles are sterile and disposable so that the collected blood is free from any infections related to HIV.